Fine dining restaurant in the center of Prague
We are Triton Restaurant 1912. A unique Art Nouveau restaurant in a stalactite cave in the heart of Prague. A place where the world revolves around the great food on your plate.
See the site where top-class gastronomy meets colourful history. Fine dining restaurant with more than 100 years long tradition. The unique atmosphere of the stalactite cave in the center of Prague on the Wenceslas Square will give you an experience you will not forget.
The 1912 Art Noveau interior of the restaurant resembles a stalactite cave with statues portraying Greek, Roman and Egyptian mythology. Each of them expresses a different mood and tells a different tale. Come and listen to them... more about the history and interior can be found here.
Art gastronomy de chef Tomas Horak
One of the best fine dining restaurants in Prague offers you a palate to our range of international cuisine and local traditional dishes. Indulge in an experience you will never forget
A special menu that will not leave even the most demanding gourmet indifferent
Traditional Czech cuisine in a modern and creative design by chef Tomas Horak
Romantic candlelight dinner for two in the unforgettable unique atmosphere in a cave
The restaurant menu is available in English, German and Russian languages
Modern Easter menu by chef Tomas Horak - the best Czech cuisine in a unique style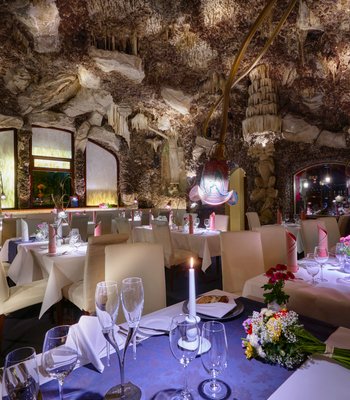 Celebrate your wedding, an unforgettable corporate or family event with us!
Our team
We introduce you our team of professionals, who will ensure the uniqueness each of your visit
1341
unique bottles of wine
Spirit of the hidden treasure
The original Art Nouveau interior of the restaurant is influenced by two significant artistic streams from the turn of the 19th and 20th centuries. Symbolism, which builds on romanticism, seeks to uncover the mystery hidden in the heart by means of symbols or signs.
In the restaurant area you can find scenes and symbolism not only from Greek, but also from Roman and Egyptian mythology. Every detail has its hidden meaning, even in the orientation of the world. The central theme of the interior is the ancient tragedy of Orpheus and his wife Eurydice.
CHEF card - card full of discounts for our loyal guests
Being a member of the CHEF Club and having a CHEF card does not only mean that you will receive special offers and DISCOUNTS when paying on any one of your visits to our establishments.
More
Simon
Florida, USA
" Great restaurant, great food, great service, great interior. Little gem in the heart of Prague, super friendly staff who made us feel very welcome. The chef knows what he's doing too, a fantastic blend of flavours and textures across all dishes.
The piano player was unique too. "
Anna
Oxted, United Kingdom
" Amazing place we found this little place last time we visited and had not changed one bit still lovely clean. Very knowledgeable staff to choose wines to go with dishes. Range of dessert wines.
Food amazing and very well presented. "
David
Tokio, Japan
" Fabulous Food and Atmosphere. This intimate underground restaurant was a revelation, the finest of fine dining, great wine list and excellent service, all in an atmospheric dining room.
International food in the main but with a Czech influence. "
Joanna
New York, USA
" We had a dinner there on Sunday and we loved it. Food was delicious, The duck I've ordered was probably the best I had! Yummy! Our waiter was very friendly and professional.
We will come back soon! "
John
Wilsden, United Kingdom
" Why doesn't this place have a Michelin star? The food here is among the best I've eaten. Wonderfully presented, imaginative and just the right portions. The slow cooked saddle of venison with a cranberry sorbet was phenomenal. But then it was all good and served in delightful surroundings by attentive staff who kept the flow going well. "